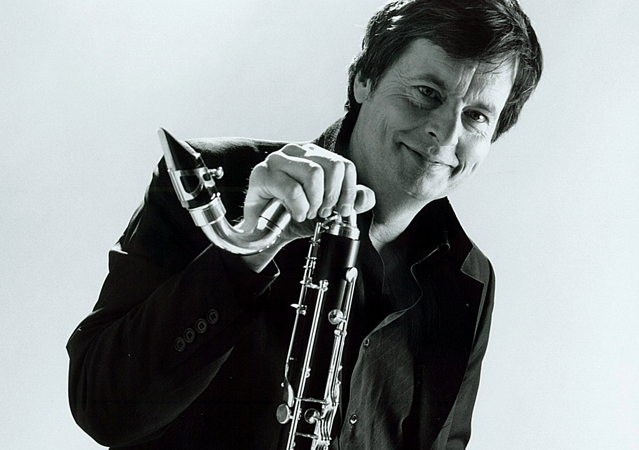 Jean-Marc Volta began studying music when he was 5 with Mr. Bianconi who introduced him to the clarinet in 1958. In 1962 he went to the Conservatoire de Metz in Mr. Genvrin's advanced class. In 1966 he won the price for clarinet and in 1967 he wont the price for overall excellence and the price for chamber music. In 1972 he went to the Conservatoire National Supérieur de Musique de Paris where he worked with Ulysse Delecluse (clarinet) and Christian Lardé (chamber music) and was a price winner in 1975. In 1976 he went to the Musique de la Garde Républicaine, then to the Nouvel Orchestre Philharmonique as second soloist. In 1977 he was appointed frist soloist at the Orchestre National de France and also joined the Quintette à vent de France and the Octuor à vent Français (from 1977 to 1984).In 1990 Jean-Marc Volta and his good friends and musicians Carlos Dourthé et Walter Civitaréale formed the Trio Européen de Luxembourg and in 1992 they recorded Beethoveen's Trios for clarinet (QM 6940 Quantum).
Jean-Marc Volta has taken part in numerous festivals (Festival d'Aix, Orange, Montpellier, Festival estival de Paris, Festival de la Côte d'Opale, de Luxembourg).He regulary plays in concerts hosted by France Music with soloists from the Orchestre National de France. Since 1987 he has been technical and artistic advisor for the pretigious instrument mater Buffet Crampon, were he takes part in the development of new clarinet models (bass clarinet, basset horn, alto) as well as giving master classes, concerts and classes in France and abroad. Since 1990 he has edited "Clarinettes" for International Music Diffusion in order to encourage the writing of contenporary works. In 1995 his method for playing the bass clarinet was published. In 1998 he took part in the ICA with Philippe Berrod from the Orchestre de Paris (Columbus Ohio USA). Jean-Marc Volta has played Mozart's Grande Partita with Jeffrey Tate and performed it again in 2000 with Riccardo Muti at the Théâtre des Champs-Elysées.
Jean-Marc Volta is currently teaching at the Ecole Normale Cortot in Paris.